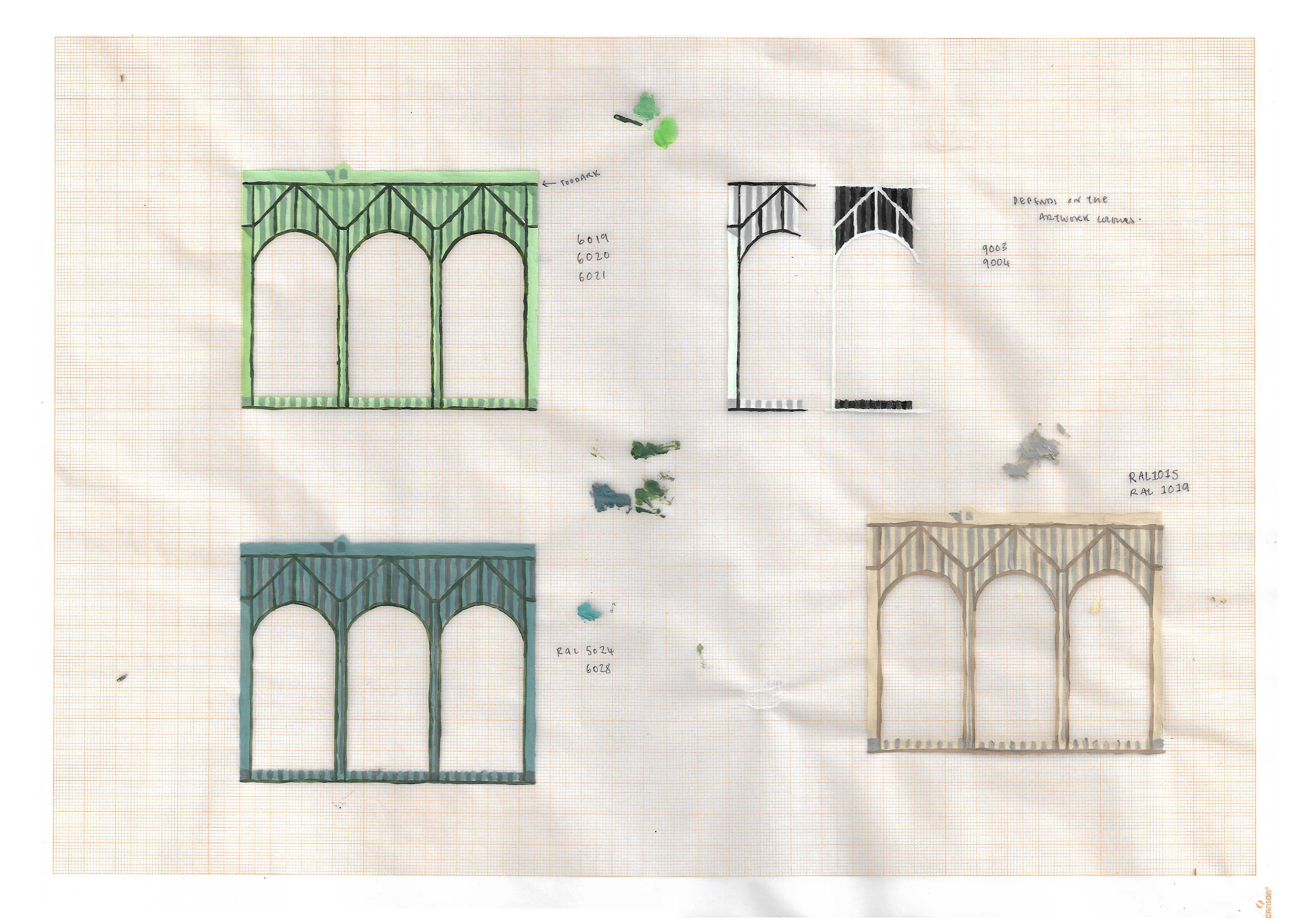 Colour Applied
 | November 2020 
Architects make a lot of decisions about colour on a 13-inch monitor - they then order a sample of a coloured material, as a small portion of the entire piece, and decide whether or not their back-lit, pixelated version is close enough to the thing they hold in their hand. 
Things get a little more complicated when we start thinking about 'off-screen' colours, away from the CMKY or RGB and onto the RAL and Pantone references. Through the process of physically mixing colours and hand painting elevations I've learnt to understand the materiality of colour and the varying degrees of tone and shade in different lights in a physical space.
Everything created on-screen is interpreted by a manufacturer and matched to the closest colour-book or sample chart as a universal compass on coloured material. For example, working with large-format vitreous enamel on my recent public art commission, you realise that the colour charts are only a reference point which the manufacturer will match by eye with a specific material's colour range. The 'printed' colour here is actually fused glass and has no RGB or Pantone reference.

Colours should be considered in the initial stages of the design process - rather than a secondary flourish of colouring-in-the-lines 2 days before the elevations are submitted to planning.
A fabled story of colour in design is the example of the new TfL Elizabeth Line - the branding for which will be identified by an appropriately royal plum tone. 
Once the graphics had been published TfL then looks towards the manufacturing of several hundred sign-posts and way-finding elements, all of which would be printed in enamel trays, matching the London's universal transport glossy signposted material language - blending the new station in seamlessly with the network.
However, what TfL's graphic team didn't realise is that a deep purple is virtually the only colour you cannot achieve in any stove-baked enamel printing. (Due to the chemical properties and baking process of the glass) - Ah.
This has led to the rather upsetting result of the entire Elizabeth line being clad in transfer printed steel or back-vinyl plastic — which is basically a permanent sticker. Although this process is very robust and fairly differentiable, instead of the colour being a material - it is a decal/veneer.
Maybe I'm splitting hairs here, but isn't this what makes signs from old shop fronts and advertisement boards selling tobacco or biscuits so appealing? Nostalgia aside, there's a permanence, an integrity behind the colour having some solidity, which ages, chips and wears with time. This surely gives a piece more durability and a longer lifespan. 
We've all made the mistake of littering our laptops or lunchboxes with stickers, only to realise their original messaging and bright colours become less legible and fade.
Yves Klein, the French, post-war artist, devoted his entire career to the creation of the perfect 'blue'. IKB 79, pictured here is one of 194 colour blue he patented in 200 monochrome painted canvases in varying varieties of blue. 'Blue' for Klein became a medium for his artwork and career - you used to be able to purchase the pigment colours he invented mixed to his own catalogue of IKB references.
Designers who work with colour could learn something from Klein's obsession and refinement of a pigmented paint. Remembering that colour is not something abstract from material, something which is applied to a material but rather seeing colour as a material itself.